Everyone is deeply, naturally and profoundly musical – even those who think they're not!
Neil Moore, Founder, Simply Music
Play a Story – Ages 5 to 7 Created by Lyndel Kennedy of Inner Musician, Play a Story uses storytelling, animated books and movie clips to inspire our youngest students to improvise and play their own music spontaneously. Travelling through a storybook world, your children will learn to listen, feel and literally 'play the story' across the whole piano.
The vocabulary of your child's musical language comes in the form of simple piano motifs – short musical phrases or ideas. The motif incorporates melody, harmony and rhythm. How your child plays the motif describes what's happening in the story.
As well as creating music, they'll be learning key theoretical concepts, forming a solid playing foundation through a curriculum which spans twelve to eighteen months. At the completion of their time with Play a Story, the students transition to Simply Music for their journey forward.

Simply Music – Ages 7 and Up These aren't ordinary piano lessons! Simply Music enables piano students to play more songs, of higher quality, in much less time, far more easily than is possible with other methods. Simply Music students:
Experience playing the piano as a natural self-expression,
Play a vast repertoire of great-sounding music,
Learn to teach themselves and progress on their own, and
Enjoy a highly positive experience, both in their lessons and when they practice at home
What skills do Simply Music students acquire?
After one year of lessons, Simply Music students will typically: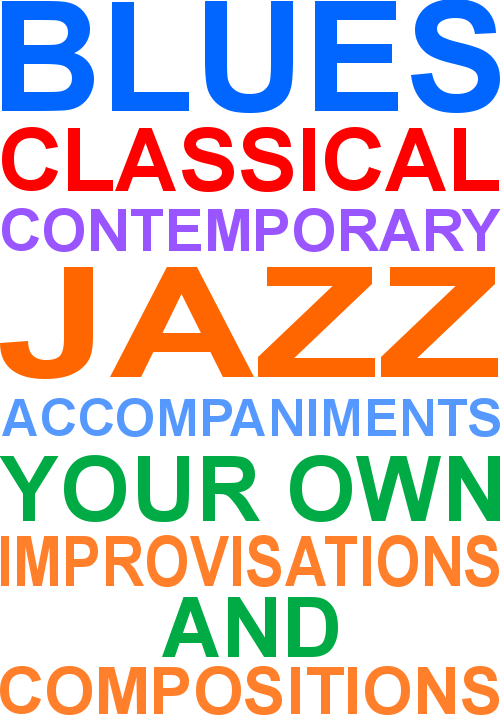 Play 30 to 50 pop, blues, jazz and classical songs from memory anytime, anywhere
Arrange their own versions of existing songs
Compose their own songs
Learn lead sheets of their own choosing with minimal assistance from their teacher
Play accompaniments with singers or other musicians
Understand and use standard chord structures
Transpose songs into any key, in real time, using standard chord structures
Understand and use a wide variety of contemporary chords in every key
Play music with character and emotion
Be comfortable playing for audiences
Delight in playing the piano for themselves and for others
After 3 years of lessons, Simply Music students:
Continue with everything in the first list
Read sheet music and use it to learn songs on their own, of a variety of styles
Play an additional 30 songs from sheet music provided by the instructor and the student, from all genres and of substantially greater complexity and musical expression
Understand and use more complex chord progressions, including jazz harmony
Understand and use integrated theory
Piano students gain much more than these skills:
Check out this video to learn how learning an instrument improves creativity, problem solving, persistence and many other fundamental skills and abilities!
Let our highly skilled and patient teachers help you and yours become musically expressed for a lifetime. We are ready to help and we can accommodate nearly any schedule. New classes start frequently. Would you like to know more? A great way to get your questions answered is to attend a FREE Introductory Session at the studio.
Learn Piano Online! Would you like to learn how to play at Keys of Joy, but can't come to the studio? No problem – you can learn online! We simulcast lessons to students who are part of a shared group lesson, and we conduct online lessons for private students as well.
Online lessons are easy and lots of fun. All you need is a stable, high speed internet connection, the Zoom video conferencing app, a tablet or notebook computer on or near your piano, and ideally, a webcam that is positioned about 2 feet above middle C on your piano or keyboard.
If this option appeals to you, set up a Free Introductory Session at the studio, or participate in a Free Intro online. Why don't you set up your Free Introductory Session today?
We present FREE Introductory Sessions on Wednesday evenings and Saturday afternoons. If you would like to participate in one of these sessions, please push the button, below, which will take you to our EventBrite scheduler, where you may select the session that you would like to attend.
If you would like to speak with us before registering for a Free Introductory Session, please call us at 785-856-4400. If we are unable to answer your call, please leave a message and we will get back to you within one business day. Or, you may complete the contact form, below, and we will respond within one business day.