Keys of Joy! Studio was opened by Evan and his sister, Paige, in August 2011 with 12 students. Paige married in 2014 and now lives with her husband and her cats in Kansas City. Evan, John Hunter, and Nathalie Hunter, are the studio's instructors.
We now help more than 100 students of all ages express their natural musicality and we are the fastest growing piano studio in the region. About 30% of our students are adults ages 18 and up; the rest are children ages 5 to 17.
Evan Hunter, Owner and Director, Instructor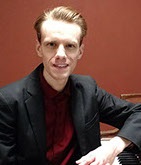 Evan is not your typical piano teacher. Evan studied music composition with the internationally renowned composer, James Barnes, and trumpet with Professor Stephen Leisring. Evan holds a bachelor's degree in music composition from the University of Kansas and he has played piano and trumpet since he was 12. He writes symphonic works for wind band and orchestra as well as pieces for small ensembles and choir. Evan has won the Claude T. Smith Award and the Lawner Prize for composition. Evan tutors graduate students in music theory, writes commercial music, writes music and arrangements for his church choir, and plays the trumpet for worship services. One of these works, Pastorale, was played recently at Redeemer Presbyterian Church in Overland Park and another composition, Fantastic Scenes, was played by the KU Symphony Orchestra at the Lied Center in Lawrence. Evan loves to help students of all ages discover their natural musicality!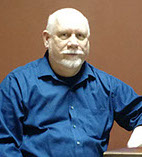 John Hunter, Studio Manager, Instructor, Simply Music Piano
John's background is even less traditional than Evan's. John earned a bachelor's degree at the University of Maryland where he studied film and early childhood educational psychology. John designed and taught supervisory development classes for banks and technology companies and supervised call centers. Most recently, John was Director of the Composite Materials Laboratory for the Department of Aerospace Engineering at KU from 2008 to 2016.
John has loved classical and pop music for many years and often wished that he could play his favorite tunes. He even tried to learn piano twice before, but failed both times. He had nearly given up when he heard of Simply Music. Simply Music was a life-changing program. John began lessons seven years ago and he now has more than 100 songs of widely varying styles, including pop, classical, jazz, and even his own compositions in his active playlist. Simply Music has unlocked a gift that he didn't even realize he possessed, and now John gets to show people of all ages and levels of experience how to express their innate musicality. John's students range from 7 to 75 years old and he loves to say, "If I can do it, anyone can!"
Nathalie Klasky, Instructor
Nathalie grew up in Baxter, Minnesota. Creative to her core, Nathalie loves to paint with acrylics and watercolors, she creates projects with wood, she dances, and she plays the piano.
Nathalie is a certified Speech Language Pathology Assistant and she worked as a special needs educational assistant in the Minnesota Public Schools. She loves working with children and she is highly regarded for her patient, loving approach and for her endlessly creative ways of helping them learn. 
A world – class facility

This is not just another piano studio. We built a new facility from the ground up for just one purpose: To enable you and yours to become musically expressed for a lifetime. To that end we operate a working piano lounge with seating for 69 people! Our students can play for friends, family and others who just happen to be in the lounge. The lounge is equipped with a Steinway grand and digital instruments, has room for a small ensemble, and is equipped with state of the art Bose sound reinforcement systems.
Our classrooms use new Kawai acoustic pianos, HD video displays and Bose sound systems. There are no toy pianos in our studio! No other studio in the area, outside of a university music department, provides the facility, equipment and outstanding methods that are offered at Keys of Joy!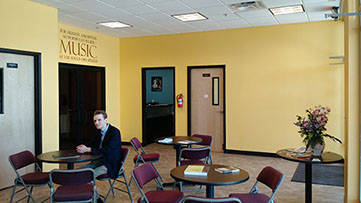 Lobby looking toward the piano lounge. Offices and classroom to the right.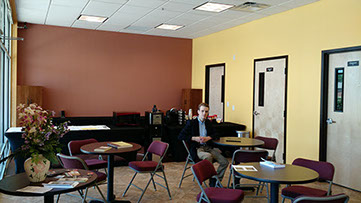 Lobby looking toward the far wall, Classroom 2 to the right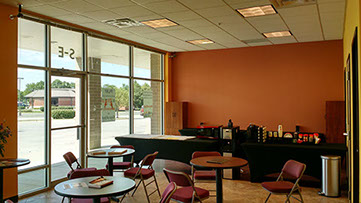 Lobby looking toward the front windows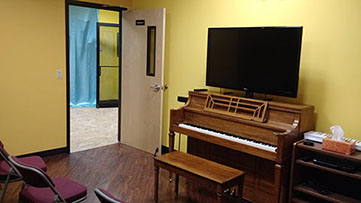 Classroom 1 looking toward the lobby
Classroom 2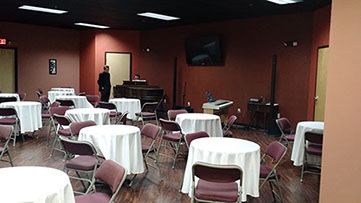 Piano lounge, looking toward the stage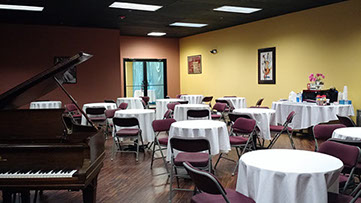 Piano lounge, looking toward the lobby
Let our highly skilled and patient teachers help you and yours become musically expressed for a lifetime.
Our teachers are ready to help and we can accommodate nearly any schedule. New classes start frequently. Would you like to know more? Come to a Free Introductory Session and learn how you can…
Make the piano a companion for a lifetime at